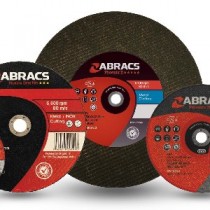 Cutting Discs & Grinding Discs
Abracs' signature product range, we offer one of the most comprehensive and highest quality abrasive disc ranges available on the UK market. We have an extensive range of Cutting, Grinding, Extra Thin and Specialist discs available for use on a wide range of applications. All Abracs discs are subject to rigorous quality control procedures and are manufactured to European safety standards.
We have classified the range into 3 star and 5 star quality levels & application types to make selecting the right product as easy as possible.