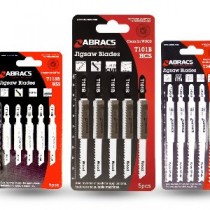 Jigsaw Blade Range
Abracs Jigsaw Blades come in an extensive range of sizes, tooth shapes and configurations and are manufactured using a variety of materials to make each individual blade the highest possible performance for cutting the intended material application.
We have specific blades for use on wood, metal, wood & metal and aluminium cutting applications. Abracs Jigsaw Blades are packed in cards of 5 blades which displays the tooth shape, a product cut-out, a ruler guide for size reference, clear product type descriptions and use industry standard codes to make blade selection easy.
All blades in the range are long life, professional performance and competitively priced.